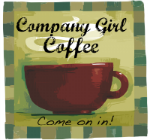 Happy Friday Company Girls and beloved Regulars!
It is a gorgeous day out today, and I am absolutely itching to start working in the garden!!! I made the mistake of stopping by Lowe's this morning and checking out the gardening department. Oh mercy, mercy, mercy!
So far on my list of "wants" for my garden, an apple tree ($22.95), an orange and a lemon tree (2 for $39.95), another blueberry for the blueberry I already have (they don't fruit unless there are 2 of them, awwww! - $10.95) a blackberry and raspberry bush ($8.95 each), more dirt, fertilizer and seeds or small plants for onions, spinach, and a couple of herbs, and some peppers. I would also like some strawberries and red onions this year.
So....I need about $200+ to start. *sigh*
I have no idea where that is going to come from. Maybe we'll have a garage sale or something.
I was getting giddy looking at all the little plants.
I still have seeds for zucchini, tomatoes and the peas and beans. I hope to plant a lot more of those this season. My returns in the fall were pitiful, and just as everything started to really get going, we had a hard freeze and it wiped it all out. The only plants I have left are carrots, some sad little onions that probably won't come to anything, a couple broccoli plants that still haven't produced anything, and 2 teeny tiny spinach plants. I also have some brussel sprout plants still growing, and while they are gorgeous, they aren't producing anything and probably won't. I just don't have the heart to pull them!
I am thinking about incorporating our fence into the "garden" area and plant the squash and the berries along it. The squash takes up so much space, it nearly swallows the entire 4x8 box with just a couple of plants. I am just not sure I want to go through all the labor of getting the ground ready over there. There are lots of rocks and junk to dig through, weeds to pull, and bushes to take out. And the dog will probably try to trample anything I plant, so I would need to devise some sort of fence.
I discovered this week that the family of squirrels that lives in our back yard has moved it's nest from one side of the yard to a tree on the other side. Right next to the garden.
mmmhmmm. They are planning for the spring harvest too I am afraid.
So, are you thinking spring too? I would love to know your plans!
Thanks for stopping by!
Until,
D :)