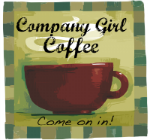 Good morning Company Girls and other Beloved Readers!
Yes, it actually is morning! Unlike my usual 11:55pm post, I am trying to get a jump on things today.
Of course, it helps that I was up at 4am.
zzzzzzzzzzzz
Thanks for stopping by; I have plenty of coffee and some very yummy Costco blueberry lemon muffins that are about the size of my head. They are scrumptious, but I can only eat about a 3rd of one! I also have some homemade pumpkin banana muffins if you prefer.
So yeah, 4am - so not my time of day!
Tuesday I traveled to Houston for a newborn session (photo shoot) and then drove back Wednesday. At almost 4 hours each way (counting stops for diaper changes and retrieving tossed bottles) I was exhausted once we arrived home. That night, I was up at 3am cleaning up doggie
doo
off the hallway floor. I didn't get much sleep after that. So last night I was in desperate need of some good sack time. Unfortunately I heard my 5 year old rattling around in the hallway at about 4. He went back to bed so I assumed he had only gotten up to use the bathroom. I laid in bed listening and dozing in and out until the baby started screaming at 5. I got up, changed his diaper, gave him some water and put him back to bed. He screamed and screamed...I went back to bed hoping he would settle and go back to sleep, and as I was lying there listening again I heard a big thud from the older boy's room.
Upon investigation, I discovered the boy up and attempting to turn on his
turtle lights
. He was completely without jammies. I asked him what happened to his clothes and he informed me he had wet the bed. "Mommy would you change my sheets please?" he asked. I simply did not have that kind of energy so I tossed a couple of towels over the bed along with a clean sheet and found him some clean pajamas. Then I put him back in the bed with a clean blanket and told him to go back to sleep. Poor guy, if I hadn't discovered him I don't think he would have gotten back to sleep. It never occurred to him to come get me, so he was hanging out nekked in his room and trying to sleep on the foot end of his bed where it was dry.
Port was still crying in his crib and it sounded like he wasn't going to give up so I got up with him at 5:15. He was just as happy as a clam! It is so hard to be grouchy with him when he gets up that early because for some reason he is so incredibly sweet. He was giving me all kinds of kisses and hugs and lovin' - it was just too cute!
So, *yawn* I am so very tired now. I think I may have to nap at the same time Port does today. I just don't think I will make it through the day if I don't.
Hope you all have a restful, exciting weekend, free of wet beds and doggy poo! Thanks for stopping by!
Until,
D :)