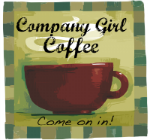 Good Evening Company Girls and Beloved Regulars (and my Newbies too! Hi!)!
So it is Friday again, please come in, pull up a chair and relax. I will put a pot of decaf on since it is late.
I am really late getting to this post this week because I just got back from Houston a couple of hours ago. I was there for a couple of days to do a photo shoot - a maternity/family combo that was so much fun! The momma is pregnant with twin girls! I am very excited because she has also hired me to do a newborn session for her when the twins arrive. yeeeee!!!
So in the past week I have had a family session, a wedding and the maternity shoot. Next week is a newborn and hopefully my senior rep session. I am waiting for the word to come and possibly shoot a birth session as well. I LOVE being this busy with my photography biz. Lord knows we need it!
I swear the drive to Houston the other day was by far one of the most memorable. Of course, there was a full moon that day so I shouldn't be surprised, but man, people on the road were downright nutty! One woman in a Lexus SUV seemed to get irritated every time I passed her on the freeway. I was using my cruise control so I was maintaining a constant speed, but she kept speeding up and slowing down. When she'd slow, I would pass. She would then stomp on the gas and aggressively pass me and get in front of me. Then she would slow and I would pass her again. This went on for miles and when I passed her for the last time I finally got a good look at her - she was reading a magazine while she drove. It was spread out over the steering wheel and she was flipping the pages....while driving between 65 and 75 miles per hour!!
As soon as I got rid of her then I managed to get behind a guy driving about 60 in a 55 zone on a long, curvy two lane road. I watched as he drove completely off the road into the ditch 6 times and into the on coming traffic lane 4 times. He drove for about 2 miles with two wheels on the road and two in the ditch. He weaved from side to side the entire time, and at every red light he would stop in the middle of the intersection. Every time someone turned in front of him I thought for sure he would rear end them. He scared me to death. When the road finally opened up to 4 lanes I floored it to pass him. Looking in the car I see a little old man; the top of his head barely level with the top of the steering wheel. His mouth was wide open and his knuckles were white. I don't know how he managed to not kill somebody or himself, but strangely his car didn't have a scratch on it.
We managed to make it there safe and sound. On Thursday I was able to meet up with one of my best girl friends and share some time at Sonic. I never get to see her so it was a welcome treat. The photo session was at sunset that night (fabulous!! and so much fun!) and then this morning I met up with another friend and her daughter at a Chick-fil-a. After a wild goose chase trying to find the place (you would think I would know where I was going, considering I grew up in the area, but sadly, no) we were surprised to find out today was cow day. The restaurant was all decked out in cow balloons and fun stuff, and if you wore a cow costume you could get your meal for free
(darn! I left my udders at home!)
. The kids had fun playing together. Even little Port enjoyed his chicken and biscuit breakfast (or should I say
my
chicken and biscuit breakfast) and play time in the kids play area.
After our breakfast playdate I delivered Kiddo back to Grammy and Happy for an official sleep over and Port and I headed back home. G&H will bring Kiddo back to us tomorrow - I am sure he will be terribly upset that he won't get to stay longer.
Well, I should go enjoy the quiet evening and head to bed. I hope you all have a wonderful weekend!
Until,
D :)
PS. For all of you new readers (HI!), I just wanted to let you know that I also co-host a podcast called
Musing Mommies
. We record a new show every week, talk about all things mom related and we have a ton of fun. Please stop over at our
site
and give us a listen. I would love to know what you think! Thanks!