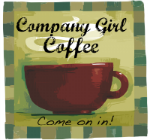 Happy Friday Company Girls!! I know, long time no see, right? Well today I will have to make my post quick - I am headed out the door to get on the road to see our very own
Rachel Anne
!!! This weekend we will be working on her book,
Company Girl
. I am so excited to finally get to meet her in person and check out the "barn house" we've all heard so much about! I may even get to see the famous Flash! lol
So wish me well tonight as I will be on the road for a few hours and then searching for her house in the dark - eek!! I may have to call in the rescue team.
I am looking so forward to my time with Mrs. Ridge this weekend. I am also looking forward to a little break from the kiddos and getting to see some old friends too. I even scheduled in a photo shoot while I'm there. Hey, a girl has got to make money where she can, right?! I am very excited and hope to get lots of good pictures to share with all of you. And I am thrilled at the opportunity to work on this project.
Well, I just pulled out some homemade cheesecake sopapillas - help yourself to a couple. They are divine!
I will try to update this weekend as it progresses, so check back when you can.
Have a great weekend!
Until,
D :)