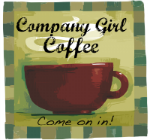 Oh good grief I haven't blogged all week!!! Mercy! Well, actually, I started a couple of posts, but never finished them. Perhaps I shall get to that today.
Welcome Company Girls and Beloved Regulars! Today I will be serving hot coffee all day long - if you happened to check out the post at
Musing Mommies
, you'll know that I have been up since 3:53am, thanks to a cranky baby who decided that was the perfect time to get up. ugh. It is only 1:30 now and I am ready for bed. The baby is napping - I know, I should be too, but I drank too much caffeine to sleep now - though I am in kind of a frantic haze (if that makes any sense whatsoever).
Anywho - things around here, despite the early rising (2 Fridays in a ROW!!!), are actually going great! I am almost completely booked for the holiday season, and this week, a fabulous opportunity to
possibly
assist in shooting 2 destination weddings dropped in my lap. Can I get a woo-hoo?!? It is not definite yet, but I could possibly be shooting in Fredricksburg and Marathon this month with my fabulous wedding photographer friend
Allen
. I am stoked! It is such a great opportunity - lots of time in the car to pick his brain -haha! And, I am shooting another wedding with him in a couple of weeks. I am so excited about that too!
I even have a Houston weekend of sessions booked this season as well. Business is AWESOME.
So, I am still working on those adorable
twin newborn images
and planting my fall garden and chasing after the boys...the house may never look decent again (sorry Hubby). But it is all good, right?
In some sad news, I found out this week that one of my past clients had a tragedy in her family. Her 21 year old son was in a terrible car accident. Even though the doctors said he most likely wouldn't survive, he managed to make it despite a multitude of complications from his injuries for over a month. However, last week he succumbed to a blood clot in his brain. It is such a sad, terrible thing and my heart is just breaking for this family. A friend of the family (and a mutual friend of ours) contacted me regarding the portraits I took of them 3 years ago. I was thankfully able to find their images (thank goodness I saved them!) and make some prints for her to give to the family. Please keep them in your prayers during this trying time.
I hope you all are having a great Fall so far - he holidays are right around the corner! Thanks for stopping by!
Until,
D :)