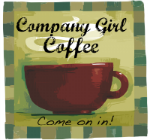 Happy Friday Company Girls!
Sorry I skipped out on you last week. Friday got away from me and I just completely forgot about blogging.
How are you? Until about an hour ago, it has been a cold, rainy, dreary mess for the past few days. I am so tired of the dark and damp and cold - blech. I am ready to move back to Arizona! Thankfully the sun just peeked it's head out from behind the clouds. I hope it stays out long enough to dry us out a little. The weather man keeps talking about some arctic blast that is coming in next week, but I see little indication of that on weather.com. Thank goodness! I don't know how much more I can take of the cold. I am ready for spring!!!
I planted some seed in my garden last week and the day after we got a huge rain storm complete with buckets of hail. I am fairly certain everything I planted got washed out, but we will see. If it dries up some I may go plant more seed on top of what I already planted, just to insure something grows! My mom sent me a $50 gift card to an online gardener's site - I am so excited to get the fertilizer, compost and row covers I ordered. Thanks Mom!!
The bees are starting to come back, despite the cold. We have a terrible problem with honey bees at my house. I don't know where their hive is, but it has got to be close because every time I open the back door I have to deal with them coming in. It's funny because I don't really see them much in the yard or even in the garden, but that back door has some sort of draw for them because most days, if the door is open for any length of time while the boys are outside, I have to kill at least 5 or 6 bees. Last week, little Port got stung on his finger when he found one in the living room on the rug. Poor guy! The boys were arguing and I thought at first that Kiddo had done something to him. He came running to me holding his hand; and I was screaming at Kiddo to tell me what he had done. Out of the corner of my eye I saw the bee dead on the floor (thank goodness for a white rug for once!). I opened up Port's hand and sure enough there was the stinger in his little index finger. Thankfully I was able (and brave enough) to pull it out really fast. I gave him a dose of benadryl just in case (we have a family history of bee allergies) and watched him close for a while. He was fine after about 2 minutes, but he licked and sucked on his finger all day. It swelled up pretty good, but by the next day it was fine.
I felt so bad about it. Usually the hair on the back of my neck stands right up when one flies into the room (I am terrified of them). But I guess this one snuck by me. How it ended up on the floor where Port could pick it up I will never know. I am just thankful we can mark that off the allergy list for him.
Beyond all that, I am working hard at my
business
- getting some marketing materials done and some new programs set in place. This week I hope to release my spring specials and some fun stuff I am doing with that. Right now my focus is newborns and Austin area high school juniors and seniors.
And, if you listen to our
Musing Mommies
podcast, we are having a very exciting giveaway right now!! A beautiful necklace is the prize. Click on over there if you are interested; we would love to have you for a visit. :)
I hope you all have a glorious weekend. May the clouds depart, the sun rise and it's rays warm your soul. I know I will be soaking it up when and where I can.
Until,
D :)