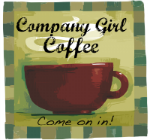 Happy Friday Company Girls (and other Beloved Readers)!
It is a dreary day here in Casa Fry, with lots of rain and dark skies, but we are trying to make the most of it by watching lots of tv, lounging in our jammies and driving each other crazy. Good times! Come on in and cozy up with a hot cuppa joe.
Little Port has been teething big time this week (it seems like I say that a lot, no?) and has been waking up several times a night screaming. I can usually get him back down pretty easy, but it is really taking a toll on me having to get up several times a night. I am just not used to it anymore!
So last week I mentioned that I was taking on something new in my photography business... I have recently connected with a local wedding photographer and am now working with him as a second shooter in some weddings. I have been wanting to get into weddings for some time now, but I didn't want to take on the full responsibility of documenting someone's special day without first getting some serious experience under my belt. Anyway, my first shoot was a total blast and I am working with him again tomorrow at another fabulous wedding. I am so excited!!
So I know our challenge today is to share a tip on Shoestring Living. Well let me tell you, when you are like me and a shoestring is about all you've got - you learn to do a lot of things frugally. lol!
So let's see... well, I do most of my cleaning with a water and vinegar solution. I keep a squirt bottle of it in the kitchen and use it for most everything. It works really well, and for pennies a bottle it is quite the bargain. Plus we don't have to deal with chemicals, fumes and worrying about rinsing off the highchair tray after I wipe it down.
I could give lots more examples, but it is now very late and I am soooo very tired. Thanks so much for stopping by. I hope you all have a wonderful weekend!
Until,
D :)
As usual, the next episode of
Musing Mommies
is ready for listening! I have to say, this one is pretty funny. We discuss finding a pediatrician and planning your summer - and if you listen to the end, you get to hear a funny clip of our "pre-recording prep". My co-host, Kim, slipped that in there just to surprise me! :P OH! And, we now have a blog on our site,
musingmommies.com
. We would love for you to check it out!