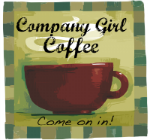 Happy Friday Company Girls and Beloved Readers!
Today was an absolutely gorgeous day! I just love it when the weather is like this! Sadly though, Texas will prove itself unpredictable once again and we'll wake up to rain and cold. Blech. What a way to experience the official start of spring. Oh well.
Hubby has been home with us for a couple of days. He originally took off from work so he could go on a TORCH (the church motorcycle rider's group) camp out. Unfortunately the trip was canceled because the bike trails where they were supposed to camp were closed, but it worked out good for us because we got to have Daddy home. And it worked out great for me because Hubby worked on finally putting the wood down in the hallway!! Yay! No more walking on concrete! It looks so nice! We have a bunch of the wood left, so I think we may put some in the bathroom and then tile the areas around the shower and the tub. I think it will look really nice when it's done.
Little Port woke me up bright and early this morning. We are still not adjusting to the time change well. And today, I believe he is dealing with teething. He has had the worst, the worst diapers all day, including 2 nasty blowouts. And he has been pretty testy as well. Tonight when I put him to bed (he was very upset about it) he cried for a while then stopped. We thought he had fallen asleep but about 30 minutes later he was up and screaming. I went to check on him and he actually asked for medicine. He's never done that before so my guess is his teeth were hurting. He will hardly let me brush them right now. Poor little guy.
Today I was able to get out for a bit while he was napping, so I went to a couple of hardware/garden stores (Lowes and Home Depot) to look at gardening supplies. I purchased some conduit pipe and some connectors and am going to build a frame with netting for my veggies to climb. I need one for the green beans and one for my cucumbers to climb. I think I will use tomato cages for the peas.
We've recently had a flock of birds take up residence near by. I think they are grackels, but I am not sure. Whatever they are, they are noisy beasts and they are pooing on everything. It is extremely annoying. I need to find some helpful tools to keep them out of my garden. I may have to sacrifice some old cds to hang or buy some mylar balloons. I know you can hang them over your plants and the shiny/flashy-ness of them will scare the birds away.
Today I finally got the 2 gardening books I ordered. I had a rewards credit on Amazon (my business credit card gives me $25 rewards every now and then) and so I ordered
The Vegetable Gardener's Bible
and
All New Square Foot Gardening
. I was so excited to get them home and look through them. As soon as I walked in and set them down, my 5 yr old confiscated them and ran off to the hammock outside to read them. I wasn't sure if I should be upset or proud! lol! He loves gardening books! I have caught him many times flipping through and reading one of the one's I use, and it doesn't even have pictures!
Tomorrow is supposed to be cold and wet, but thankfully, Sunday should be back to sunny and warm. I am so ready for spring and summer! I can't take much more cold.
Thanks for stopping by! Have a wonderful weekend.
Until,
D :)