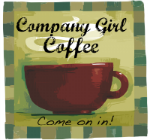 Happy Friday Company Girls!
OMG, is it really January 2nd??!? What happened to New Years Day? Did anyone else miss it? Mercy.
Well I can see how my year is going to go now. lol! I do have a couple of posts in my blogger cache that will be posted later - one from xmas and another from New Year's Day. I just have to take the time to finish them.
So how is your 2009 so far? Here, let me pass the coffee. I still have some yummy Christmas cookies left over; Neiman Marcus cookies and Chocolate Gingerbread. They are still fresh and moist.
We had a pretty uneventful New Years - just Hubby and I and the kids. I made way too much food for two people. On the menu was boiled shrimp with cocktail sauce, cocktail sausages, sausage and cream cheese dip, bacon-wrapped cream cheese stuffed jalapenos, pigs in blankets, and a bunch of TGI Friday's stuff that never got opened because we were stuffed! The boys went to bed early - no fireworks for us since we are in a severe drought and they are banned everywhere. Of course, it didn't stop some people from making all the neighborhood dogs bark at midnight. ;)
I am determined this year to just do MORE. Much like Rachel Anne's resolution, I feel like I can take this living day to day thing up a notch. I have really been letting things slack in the past couple of years, and I am hoping to "tend to my crops" so to speak. My friendships need a little love and care as well as my house and my relationship with my husband and kids. I am tired of being tired, and I guess the only way to get out of my funk is to actually get out. and do something that is.
Anywho, how about you? What is on your plate for 2009? I look forward to hearing about what you have planned. :)
Until,
D :)