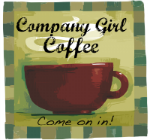 Happy Friday Ladies (and Gents if there are some of you too!)!
I am so sorry I missed last week. I was, uh, well, just kind of in a funk and didn't really feel up to it. I'm sure you all know how that is.
Anyway, it's a new week and at times I am still in a funk, but I think I am working harder to overcome it and it seems to be working. I am taking some time, or rather, forcing myself to do some things just for me and I am liking the results.
So, come on in; of course I have coffee brewing. I made some brownies for a friend of mine for her birthday and well, I just had to save a couple for myself - they were a bit undercooked, so I didn't want to pass them on. But don't tell her though, she might get feisty. ;)
My Hubby is on a motorcycle trip in the desert this week and so it's been just me and the boys. My oldest (4 1/2) and I have been butting heads some, but I think we'll make it. I've tried to spend a little extra time with him playing and doing some things he wants to do.
During the baby's nap times though I have been cleaning out our spare room. I almost have it half way decent. I am trying to get the crib moved in there. Right now, the crib is in our room and no one is sleeping. Port ends up in our bed every night, and while I have no problems with cosleeping, it just isn't for us. Our bed is too small and Port does nothing but kick, head butt and flop himself all over the bed. I haven't had a decent couple of hours of sleep in almost 4 weeks now. (contributing to my funk I'm sure) I think if we can get the baby out of our room, we can get him sleeping in the crib. At almost 11 months old, there is no reason he shouldn't be able to sleep through the night, or at least for 5 or 6 hours straight. As it is right now, he sleeps for about 2, maybe 3 hours after he goes down for the night and then is up wanting in our bed. One night this week he slept for almost 4 hours and I was shocked.
Before I can move the crib in though, I am going to have to do some serious dusting. It has been a storage room for a long time and the dust bunnies rule the land. Any suggestions as to the best way to approach it? There are tons of knick-knacks and collectibles lining shelves in there, and the walls need a good wipe down as well. I am thinking of just taking a big towel and wetting it and using that instead of going through a million dust rags.
Anyway, since I am on my own tonight the boys are getting mac-n-cheese for dinner and I am going to attempt to make a pasta primavera with some shrimp. Hopefully it will turn out - I am excited about it already.
I hope you all have a great weekend! Thanks for coming by.
Until,
D :)