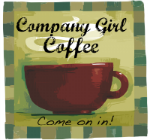 Hello Lovely Ladies and Gents!
Welcome to Friday Company Girl Coffee! As always, I have fresh coffee in the pot and today I even have hot oatmeal raisin cookies coming out of the oven as we speak!
It is cold, cold here today. About 38 degrees according to my thermometer, but it is also raining and windy so I think it feels much colder. It wouldn't be so bad if it hadn't been in the mid 80s all last week. Texas weather....it is quite the saucy minx.
Anyway, I am pleased to report that despite the fact that I have been dealing with a sick baby the past few days I am actually in a decent mood. Don't get me wrong, if the 4 year old asks me one more question I may have to throw something, but overall I think I am in a good frame of mind. ;)
I have to admit I have been pretty down lately. I have tried to not sound like it in my posts, but I don't think I was very successful. I really was holding back a lot of what I have been feeling, but when my husband made mention that I had been "kind of a downer lately" it made me take some notice. But of course, the pessimist side of me says -
well I haven't had much to be happy about lately.
Of course, there is so much going on in the world right now, so much sadness and tragedy both near and far. And I try not to think on those things much, because well frankly it's depressing, but also because I feel so helpless to do anything about it. But now of course as with many of us, things are getting bad in our personal lives - you know with the economy and all - we have had our share of cuts and now it seems that the worst of it is yet to come.
But overall we are still very blessed - we have what we need, we do not suffer. And every day I try to remember that and thank God for that. Every day I try to see some good in it all.
But sometimes, like lately, I get down about things; about life in general. About my lack of successes, my lack of close friendships and my lack of time/talent/ambition - the list goes on and on and gets more ridiculous with each passing self pity session. But this week things kind of came to a head and I have to say I hit a low.
My biggest issue right now aside from the obvious financial woes is in the friendship department. I'll probably address it in further detail some other time, but things in that area have really been bothering me. So the other night I got pretty upset and when I went to bed, my usual prayer took an unusual turn. I'm sure I'm not the only one that gets in a prayer "routine", right?
Thank
you for this day...please watch over and protect us...thank you for my loved ones and the blessings you have given...please forgive me my sins...thank you for coffee..
. oh what, you don't thank God for coffee??!? ;)
So anyway I decided to do something I should do more often; something I first learned from Miss Rachel Anne; I asked God to take away my worries and fears and anxiety over the friend situation. I asked Him to take away my hurt feelings and expectations and provide me with a peace and an acceptance of the way things are. I asked Him to change ME; change my heart, not the people I was upset about - to change me and make me the person He wants me to be, and to provide me with the support and companionship that will enable me to succeed in His will.
It was a hefty prayer - but I am so tired of thinking that others are going to change; that some how people were going to stop playing games, that I could finally make it into the inner circle...it just isn't going to happen. Some of the relationships I desire I have come to realize ultimately are not good for me, and will only serve to bring me down in a continuous spiral. So I prayed for change for me, change to focus me on the right path and to have peace and patience that He will provide the contacts and the companionship that I need. And that in the times that I feel lonely and isolated I will be reminded of the true friends in my life, the wonderful family I have and that if I just focus on Him - well it will simply be alright.
I don't know if that is a good way to look at it or a good way to pray. I only know that is what I was moved to feel, moved to plea for and moved to think at that moment.
And wouldn't you know it - God is Good!
The very next day I awoke with a huge sense of peace. I connected with someone that I have known for a while, but have not had the opportunity to really hang out with - someone who is very much like me, has the same interests and background and beliefs, someone I could really see myself connecting with. I stumbled upon a couple of great opportunities that I have been looking for - and over all I have a wonderful feeling about the days ahead. I have also been blessed with well placed Bible verses and sentiments, emails and blog comments.
The power of prayer - how wonderful it is!
So my Company Girls and beloved regular commenters, what good things have you been blessed with this week? I want to hear of your joys and successes!
Here are two wonderful things that have caught my eye this week:
1) from an amazing blog called
Lots of Scotts
, this quote:
"Comparison is the Thief of all Joy"
- such a true statement. With my current Facebook addiction, I really need to keep this one in mind. ;-)
2) the verse of the month at
Home Sanctuary
Amen! Oh how I needed this verse this week. Thanks again Rachel Anne!
Thanks for coming by my little blog for coffee! I hope to see you all again soon!
Until,
D :)