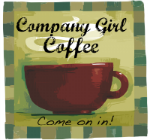 Gosh is it Friday again already??!? Well welcome back! As usual, I am late to post, but honestly I enjoy coffee with friends more at night time rather than in the morning. I know, I'm weird like that.
Anyway, today was an exciting day. I got the boys all dressed and fed early and we all went out in the back yard and planted the garden. Kiddo (4) was a great helper - I was actually kind of surprised. Sometimes he gets a little carried away when he is excited about something, but he listened really well and did everything I told him to do. I think he was getting a little bored with it all toward the end, but getting to water everything real good was fun for him. Of course, he wanted to go back out a couple of hours later to "see all the vegetables"! (we planted all seeds - no plants) I had to do some serious explaining on that one! I hope he doesn't lose interest before the sprouts show up.
In our little 4x8 we planted green beans, assorted bell peppers, corn, cucumber, zucchini, yellow onion, green onion, tomato, spinach and brussel sprouts. I have a feeling we won't get much out of the spinach and brussel sprouts; it's a bit too late for them this season. In individual planters I am going to plant basil, rosemary, chives and dill. I will have to get some more dirt and do that tomorrow.
Port did pretty good out there. I laid down a big sheet and put his walker on top of it. I didn't want him in our mine field of a yard (darn dog!). He can't roll the walker on the rough ground, so he got pretty annoyed with being stuck. I eventually had to take him out and hold him a bit while we planted, but after a few minutes I just set him down on the sheet and he stayed put long enough for us to finish up.
I just hope we get something soon! I am excited too. :) Thanks for coming by tonight. I hope you all have a great weekend!
Until,
D :)