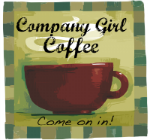 Happy Friday Company Girls and Beloved Readers!
I am kind of off today - we packed up the fam and drove to Houston last night and so all day today I have felt like it is Saturday. It wasn't until I saw MuMo Kim's coffee post over at Musing Mommies that I remembered it was actually in fact only Friday.
So come on in, we are visiting at my inlaws home today. I just made a wonderful smelling Carmel Glazed Apple Cake and I am thinking about skipping dinner and just diving into that cake pan with my own fork!
And yes, I bake at other people's houses too! I am a nut!
I hope you all had a good week. I am still on the busy train; trying to get all my sessions edited and all the orders in. I am still shooting too - this time of year is always a crazy ride with how busy I get. I can't seem to keep my head above water, but of course it is, in my opinion, the best kind of water treading.
So this weekend will be full of photo sessions and coffee with friends, apple cake and good visiting with the family. My boys will be spoiled and we will all be exhausted, but I look forward to the time away from home.
I hope you all also have a wonderful weekend! I look forward to reading your blogs.
Until,
D :)