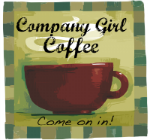 Hello my
Company Girls
!
I don't normally do Company Girl Coffee - because well, I tend to forget these things until way past Friday, but today I happened to have a blog post ready so I thought I would tie it into our little get together.
Have a seat. I made pumpkin bread. mmmmm! There is always coffee here too. Do you like dark roast? I have some that has a hint of chocolate and cinnamon. I also have peppermint mocha or cinnamon vanilla creamer if you like.
So here is my thing today; I have no idea how to interpret the mind of a 4 year old sometimes.
What did I do???
Conversation between Kiddo and I this morning: He had been running around all morning with a baby blanket tied cape-style around his neck. He ran, he jumped, he fought and defended dinosaurs while wearing his "dinosaur black boots" (?? I don't know) and while I was in the shower his cape came undone. I offered to retie it for him, but he didn't want it to get wet so he declined. When I got out of the shower he came into the room and the following conversation took place.
Kiddo: very matter-of-fact
"I'm not a superhero anymore"
Me:
"You're not?"
Kiddo:
"No, I not a superhero"
Me: I bent down, took his face in my hands and planted a big kiss on his nose
"Well, welcome back my beautiful, normal boy"
Kiddo: turns, clenches his fists and starts to walk out
"grrrrrr!!!!!"
Me:
"What's wrong?"
Kiddo: walking out of the bath room,
"I so ANGRY!! I going to my ROOM!!!"
????????????
Seriously, what did I do?
I will never understand the 4 year old mentality.
Thanks so much for stopping by. See you next week!
Until,
D :)