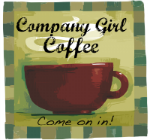 Is it Friday already? Well come on in. I have a cold, so I will try not to cough on you. The coffee is hot. :)
I hate being sick. It really is no fun. Not that I expect it to be fun per se, but I do sometimes wish it wasn't so incredibly miserable. I mean, why can't my body fight off the bug without making my throat hurt and my head ache? ugh.
And of course I can't just crawl into bed like I want to and take a nap. There is too much to do.
Like blogging. The important stuff you know. ;)
Anyway, we had to make a heart breaking decision this weekend.
I am all about people being honest and open about money and finances. I know I've talked about that here before. I honestly believe it would help people so much if it wasn't considered impolite to talk about money. I would love to know how some of my friends are affording the things they do. I would love to know how I can do better with managing our money, so that when things happen we aren't up the creek. I do the best I can, but without real life examples and honest, truthful information there is only so much I can do.
Suze Orman
can't help me.
Anyway, because the economy is in the toilet and every industry sucks right now, the company Hubby works for decided to stop all bonuses. That is a huge, huge pay cut for us. It is especially harsh though because Hubby took an offer for a bigger percentage of bonuses in lieu of a decent pay raise at his annual evaluation last year (which was several months late).
Because of this decision we are now going to be about $300 in the hole each month.
So, because this takes effect in January, we have decided the best thing we can do it go on a spending freeze until we at least have enough saved to pay for next year's property taxes and home owner's insurance. Our mortgage doesn't have an escrow account so we always paid those things out of pocket with Hubby's bonuses. Until now it has worked wonderfully.
The spending freeze means several things. Mainly it means that unless something miraculous happens we will not have anything for Christmas presents. I am having a hard time wrapping my head around this one. There are so many things I wanted to purchase for the kids for Christmas. I know they will be ok without anything from us; Lord knows the rest of the family will spoil them rotten! But I just don't know what to do about stockings and Santa and of course the tree is going to look really strange with nothing under it.
And before you suggest it - I am not crafty. Making something is pretty much out. Because even if I could make something, I don't have the money for the supplies.
It is Port's first Christmas! I am so sad for him. I know he won't remember, and I know he would absolutely go ga-ga over empty boxes wrapped in shiny, crinkly paper, but still. It is the principle of it all I guess. I don't want to look back 5-10 years from now and tell him "oh honey we didn't get you anything for your first Christmas. We were poor."
I am a bit dramatic.
Anyway, aside from all that - the heartbreaking decision was this. We aren't going to see my parents for Thanksgiving.
Normally we go to their house for turkey day. It is a tradition that has been in my family for oh, maybe 34+ years or so. When my grandmother was alive and it was her house we all went there. When she passed away and my parents moved in, Hubby and I went there every other Thanksgiving and every other Christmas. When we had Kiddo, we decided that Christmas was for us to make our own and we now stay home. So, Thanksgiving we go to my parent's house every year. It is the one time of year that Hubby has enough days off that we can go and it not kill us getting there and back.
So this year - it is out. Not only could we not afford the gas, we can't afford the eating out expense on the road, we can't afford the very high possibility that something will go wrong with our car (like it does
every year
) and we can't afford to miss the opportunity to
SLEEP TRAIN THE BABY.
Yup. That's it. I am done with this no sleep thing. We are taking the week and we are going to hard core train this child to sleep in his bed. I have reread
Elizabeth Pantley's No-Cry Sleep Solution
and I think I am ready. Please pray for us - we are starting tonight.
Port is the main reason we are not going. I simply cannot risk taking a trip and screwing up his sleep any more. We are miserable, miserable folks here, and something has got to be done.
Of course, now we are all sick so I am being especially cruel thinking I will start sleep training him now. *sigh*
All of this decision making and lifestyle changing has made me pretty sad. It will just be us Thanksgiving, and I can't afford to make a huge, elaborate meal like we would normally have. What would we do with all that food anyway?
I need your help. What can we do on Thanksgiving to make it a special day? It has to be cheap (or preferably free), easy and doable with two small children. Plus, do you have any ideas for a fun, special dinner?
I need ideas. My cold medicine is clouding my head.
Until,
D :)